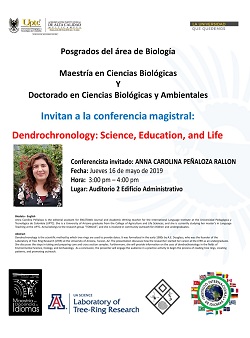 Jueves 16 de mayo de 2019
3:00 p.m. a 4:00 p.m.
Auditorio No. 2 Edificio Administrativo UPTC Sede Central Tunja


Conferencista
Anna Carolina Peñaloza Rallon



Biodata - English
Anna Carolina Peñaloza is the editorial assistant for ENLETAWA Journal and Academic Writing teacher for the International Language Institute at the Universidad Pedagógica y Tecnológica de Colombia (UPTC). She is a University of Arizona graduate from the College of Agriculture and Life Sciences, and she is currently studying her master's in Language Teaching at the UPTC. Anna belongs to the research group "TONGUE", and she is involved in community outreach for children and undergraduates.

Abstract
Dendrochronology is the scientific method by which tree rings are used to provide dates. It was formalized in the early 1900s by A.E. Douglass, who was the founder of the Laboratory of Tree Ring Research (LTRR) at the University of Arizona, Tucson, AZ. The presentation discusses how the researcher started her career at the LTRR as an undergraduate. She discusses the steps in taking and preparing core and cross section samples. Furthermore, she will provide information on the uses of dendrochronology in the fields of Environmental Science, Ecology, and Archaeology. As a conclusion, the presenter will engage the audience in a practice activity to begin the process of reading tree rings, creating patterns, and promoting outreach.

Información actualizada: 10 de mayo de 2019