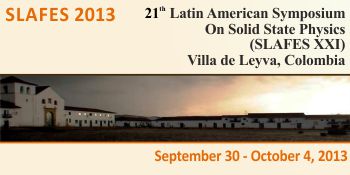 The SLAFES series started in Caracas, Venezuela, and over time the symposia have taken place in 9 different Latin-American countries. The last five events occurred in Mérida, Venezuela (2002), Havana, Cuba (2004), Puebla, Mexico, Puerto Iguazú Argentina (2008) and Maragogi, Brazil (2011) . In its latest (20Th) edition in Maragogi, had about 200 participants from 12 countries. The program consisted of many plenary, invited and short talks in addition to posters sessions. The 21th editions of SLAFES here in Colombia should have a similar format (including parallel sessions) with its traditional wide scientific scope.
Superconductivity
Nanoscience and Nanotechnology
Magnetism
Semiconductors
Phase Transitions and Strongly Correlated Systems
Surfaces, interfaces and thin films
Materials Science and Technology
Structural, Thermical and Mechanical Properties of Materials
Electronic, Electrical, Magnetic and Optical Properties of Materials.
Information update: febrary 21, 2013